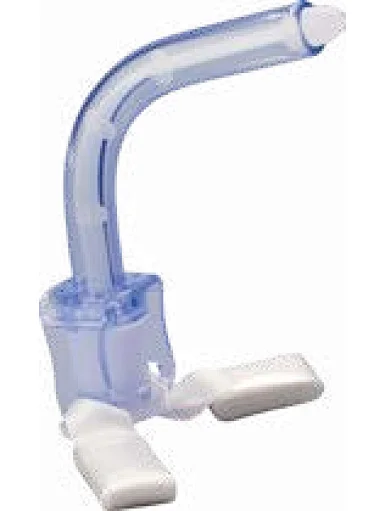 Tracheostomy Tube Without Cuff Medical Grade PVC For Hospital Use
- Medical grade PVC

- Size: 3.0mm~10.0mm, 15 kinds of length.

- EO sterile

- Shelf-time: 5 years
---
A tracheostomy (trach) tube is a curved tube that is inserted into a tracheostomy stoma (the hole made in the neck and windpipe (Trachea)). 
 Features 
---
- Atraumatic, soft rounded tip, transparent, smooth cannula.

- Flexible neckplate with slits for strap insertion secure positioning of cannula and provide the patient comfort.

- For tracheostomy.

- Tip to tip X-ray line enables safe positioning control.
 Cautions 
---
1. Single-use only.

2. Do not use it if the package is damaged or wet.
 Package 
---
 - Individual pack
 Specification 
---
| | |
| --- | --- |
| REF | ID |
| EL060601-3.0 | 3.0mm |
| EL060601-3.5 | 3.5mm |
| EL060601-4.0 | 4.0mm |
| EL060601-4.5 | 4.5mm |
| EL060601-5.0 | 5.0mm |
| EL060601-5.5 | 5.5mm |
| EL060601-6.0 | 6.0mm |
| EL060601-6.5 | 6.5mm |
| EL060601-7.0 | 7.0mm |
| EL060601-7.5 | 7.5mm |
| EL060601-8.0 | 8.0mm |
| EL060601-8.5 | 8.5mm |
| EL060601-9.0 | 9.0mm |
| EL060601-9.5 | 9.5mm |
| EL060601-10.0 | 10.0mm |
 Certifications 
---