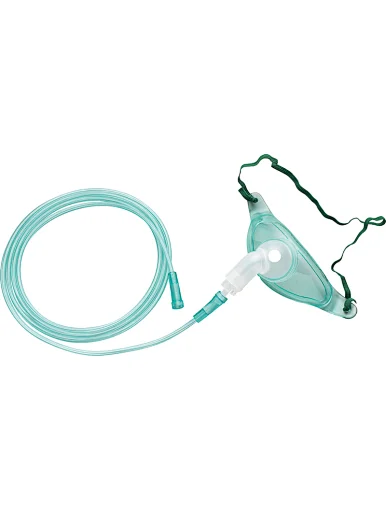 Tracheostomy Oxygen Mask Disposable Medical Grade PVC
- Medical grade PVC.

- Size: Pediatric and Adult.

- EO sterile

- Shelf-time: 5 years
---
Tracheostomy Masks, for mask nebulization Aerosol masks, tracheostomy masks and face tents are intended for nebulization via a mask or face tent in order to

administer medication via respiration.
 Features 
---
- For tracheostomy and laryngectomy aerosol therapy.

- The star lumen tubing can ensure oxygen flow even if the tube is kinked, different length of the tubing is available.

- Tubing connector swivels 360 degree for ease of positioning.

- Clear, soft PVC for patient comfort and visual assessment.

- The product can be transparent green and transparent white.
 Cautions 
---
1. Federal (USA) law restricts this device to sale by or on the order of a physician.

2. For single patient use only.

3. Not intended for reprocessing.

4. Avoid freezing and excessive heat.
 Package 
---
- Individual pack
 
 Specification 
---
| | |
| --- | --- |
| REF | Size |
| EL061301 | L/Adult |
| EL061302 | M/Pediatric |
 Certifications 
---