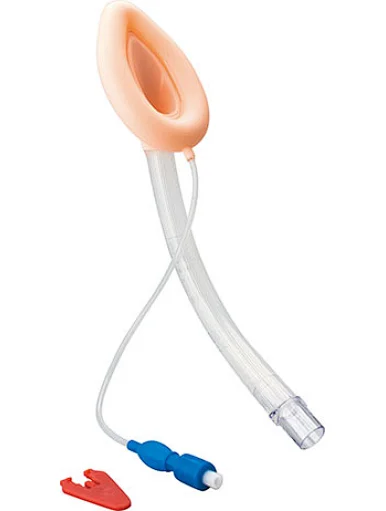 Reusable Silicone Laryngeal Mask Standard Airway Medical Grade
- Medical grade silicone

- EO sterile

- Size: 1.0#-- 5.0#

- Shelf-time: 5 years.
---
It is easy to operate, easy to master, little damage, patient tolerance and other advantages, has been widely used in general anesthesia,

especially short general anesthesia surgery respiratory management and emergency airway opening.
 Features 
---
- Smooth cuffs provide a good and soft seal.
- Have different sizes, suitable for neonate, infant, child and adult.

- Medical grade silicone for super compatibility and patient comfort.

- Can be reused up to 40 times.

- Additional user card for record of device usage times and patient information is supplied in each pouch.
 Cautions 
---
1. Sterile unless package has been wet or damaged.

2. Destroy after using 40 times.

3. Do not store at extreme temperature/humidity environment.

4. Avoid direct sunlight.
 Package 
---
-Individual pack
 Specification 
---
| | | |
| --- | --- | --- |
| REF | Size | Applicable People |
| EL060901-1.0 | 1.0 | <5kg |
| EL060901-1.5 | 1.5 | 5-10kg |
| EL060901-2.0 | 2.0 | 10-20kg |
| EL060901-2.5 | 2.5 | 20-30kg |
| EL060901-3.0 | 3.0 | 30-50kg |
| EL060901-4.0 | 4.0 | 50-70kg |
| EL060901-5.0 | 5.0 | >70KG |
 Certifications 
---