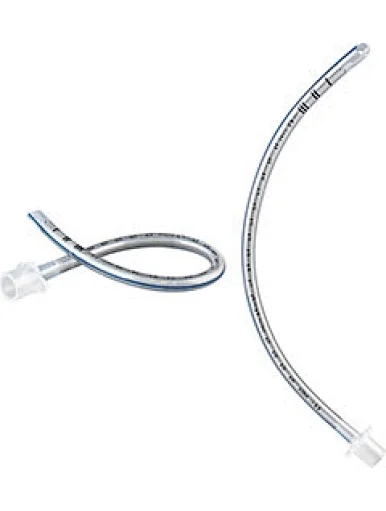 Reinforced Endotracheal Tube Without Cuff Disposable Medical Grade PVC
- Medical grade PVC

- Size: 3.0mm~10.0mm

- EO sterile

- Shelf-time: 5 years
---
Reinforced endotracheal tube is a specific type of tracheal tube that is nearly always inserted through the mouth (oral endotracheal) or

nose (nasal endotracheal). Reinforced Endotracheal Tubes provide a passage for gases to flow between a patient's lungs and an anesthesia breathing system.
 Features 
---
- Murphy Eye ensures safety in the situation of catheter misplacement.

- Designed to reduce the risk of kinking when a patient is head is in an extended or flexed position.

- Material reinforcing spiral within the wall of the entire tube helps to prevent the tube from kinking.

- Tip to tip X-ray line enables safe positioning control.
 Cautions 
---
1. Single use only.

2. Sterile if package is unopened or undamaged.

3. Do not resterilize.

4. Do not expose to temperatures above 49℃.

5. Do not use if the package is damaged or wet.
 Package 
---
- Individual pack
 
---
| | |
| --- | --- |
| REF | ID |
| El060201-3.0 | 3.0mm |
| El060201-3.5 | 3.5mm |
| El060201-4.0 | 4.0mm |
| El060201-4.5 | 4.5mm |
| El060201-5.0 | 5.0mm |
| El060201-5.5 | 5.5mm |
| El060201-6.0 | 6.0mm |
| El060201-6.5 | 6.5mm |
| El060201-7.0 | 7.0mm |
| El060201-7.5 | 7.5mm |
| El060201-8.0 | 8.0mm |
| El060201-8.5 | 8.5mm |
| El060201-9.0 | 9.0mm |
| El060201-9.5 | 9.5mm |
| El060201-10.0 | 10.0mm |
 Certifications 
---