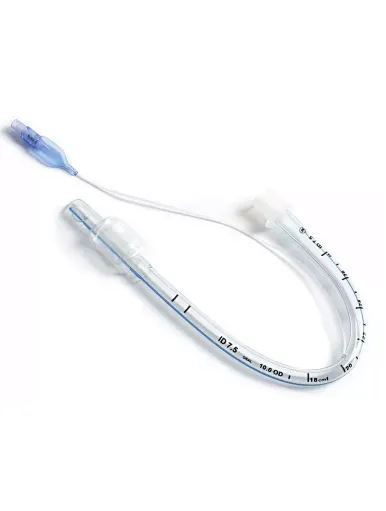 Preformed Oral Endotracheal Tube With Cuff Disposable Medical Grade PVC
- Medical grade PVC

- Size: 3.0mm~10.0mm

- EO sterile

- Shelf-time: 5 years
---
Oral Preformed Cuffed Endotracheal Tube is inserted through the mouth into the trachea and connected to a ventilation device to secure an airway.

It helps the respiration of the patients who are under clinical anesthetic treatment or in emergent rescue and improve their respiration function.
 Features 
---
- Murphy Eye ensures safety in the situation of catheter misplacement.

- High volume/low-pressure cuff ensures an effective seal at low pressure to maintain prolonged ventilation during surgery.

- The smooth bevel and carefully moulded hooded tip facilitate intubation and provide patient safety and comfort.

- Tip to tip X-ray line enables safe positioning control.

- Improved access to the operative field as the connections lie outside this area.

- Preformed tube helps to reduce the risk of kinking.
 Cautions 
---
1. Single-use only.

2. Sterile if the package is unopened and undamaged.

3. Do not resterilize.

4. Do not expose to temperatures above 49℃.

5. Do not use it if the package is damaged or wet.
 Package 
---
- Individual pack 
 Specification 
---
| | |
| --- | --- |
| REF | ID |
| EL060302-3.0 | 3.0mm |
| EL060302-3.5 | 3.5mm |
| EL060302-4.0 | 4.0mm |
| EL060302-4.5 | 4.5mm |
| EL060302-5.0 | 5.0mm |
| EL060302-5.5 | 5.5mm |
| EL060302-6.0 | 6.0mm |
| EL060302-6.5 | 6.5mm |
| EL060302-7.0 | 7.0mm |
| EL060302-7.5 | 7.5mm |
| EL060302-8.0 | 8.0mm |
| EL060302-8.5 | 8.5mm |
| EL060302-9.0 | 9.0mm |
| EL060302-9.5 | 9.5mm |
| EL060302-10.0 | 10.0mm |
 Certifications 
---