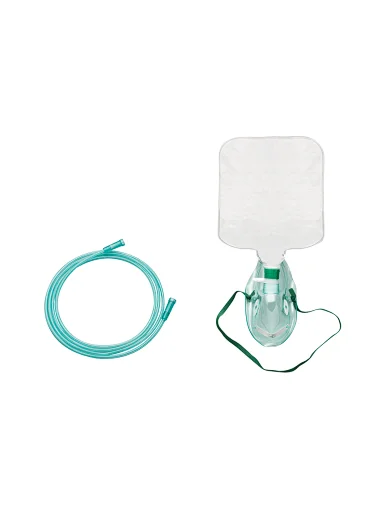 Non-rebreath Oxygen Mask With Reservoir Bag And Oxygen Tube Medical Grade PVC
- Medical grade PVC

- Size: From Infant to Adult

- EO sterile

- Shelf-time: 5 years
---
A non-rebreather mask (NRB, non-rebreather, non-rebreather facemask, etc.) is a device used in medicine to assist in the delivery of oxygen therapy. 
 Features 
---
- Low-resistance check valve does not contain natural rubber latex, prevents rebreathing and allows exhaled gas to escape.

- The star lumen tubing can ensure oxygen flow even if the tube is kinked, different length of the tubing is available.

- The product can be transparent green and transparent white.

- Adjustable nose clip ensures a comfortable fit.

- Safety vent allows for entrainment of room air.

- Adaptor swivels to accommodate patient position.

- Clear, soft PVC for patient comfort and visual assessment.
 Cautions 
---
1. Federal (USA) law restricts this device to sale byor on the order of a physician.

2. For single patient use only.

3. Not intended for reprocessing.

4. Avoid freezing and excessive heat.
 Package 
---
 - Individual Pack
---
| | | |
| --- | --- | --- |
| REF | Material | Size |
| EL061801 | PVC | Adult Elongated / XL |
| EL061802 | PVC | Adult Standard / L |
| EL061803 | PVC | Pediatric Elongated / M |
| EL061804 | PVC | Pediatric Standard / S |
| EL061805 | PVC | Infant / XS |
 Certifications 
---