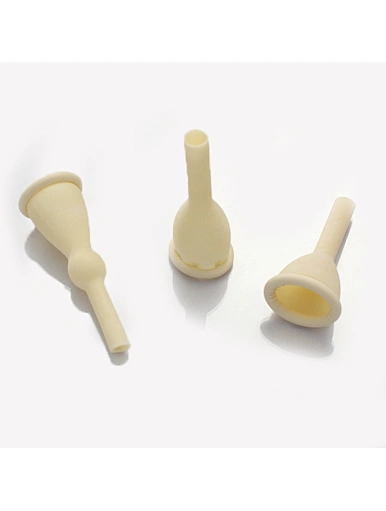 External Catheter Urine Latex/Silicone Catheter Disposable Sterile Medical Grade
- Medical grade latex

- Size: 20mm~40mm

- Shelf-time: 3 years
---
Latex Catheter is a soft, flexible tube that is used to drain urine from the bladder. Its thermo-sensitive property allows it to warm up to the surrounding temperatures

so that it becomes pliable. Some people find that the latex catheter is preferable to the vinyl or silicone ones due to its flexibility.
 
 Features 
---
- Latex External Catheter Type.

- Standard type and With a bulb.

- Type: With strip and Self-adhesive, with glue.
 Package 
---
- Individual pack
 ​​​​​​ 
 Specification 
---
| | |
| --- | --- |
| REF | Material/Size |
| EL-070901 | Medical grade latex/Size:φ20mm |
| EL-070902 | Medical grade latex/Size:φ25mm |
| EL-070903 | Medical grade latex/Size:φ30mm |
| EL-070904 | Medical grade latex/Size:φ35mm |
| EL-070905 | Medical grade latex/Size:φ40mm |
 Certifications 
---