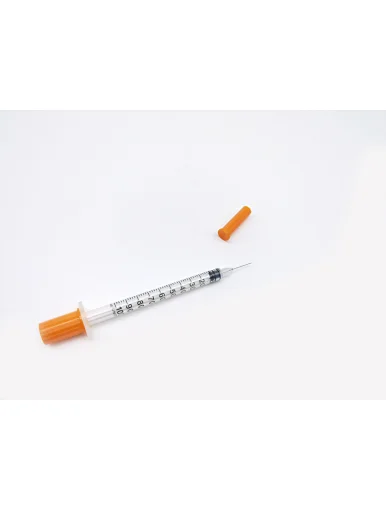 Medical Disposable Insulin Syringe With Needle Sterile EO
- Medical PP+Stainless Steel

- Sterilized by EO gas, non-toxic

- Size: 0.5ml/1ml

- Shelf-time: 5 years
---
Insulin syringes are used to control blood sugar levels in people with diabetes. These syringes have become very important tools for stabilizing blood sugar spikes

and improving the standard of life for those living with diabetes.
 
 Features 
---
- Ultra fine cannula for maximum patient comfort.

- Product structure: barrel, plunger, piston, and sterile hypodermic needle.

- Permanent needle: 27G-29G.
 Cautions 
---
1. Destroy it after using it.

2. Do not use it if the package is damaged.
 Package 
---
- Individual pack
---
| | |
| --- | --- |
| REF | Material/Size(mm) |
| EL080801 | PP+Stainless Steel/0.5ml |
| EL080802 | PP+Stainless Steel/1ml |
 Certifications 
---