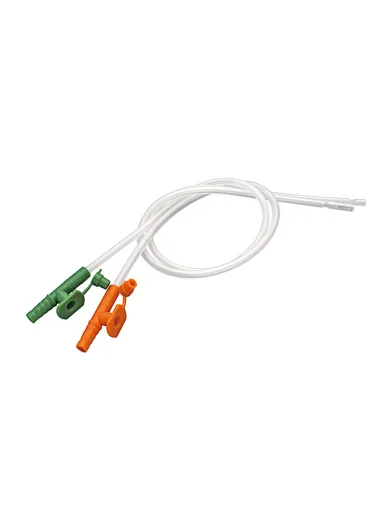 Suction Catheter Disposable Closed Straight Connector Medical Grade PVC
- Medical grade PVC.

- Size: Fr6~Fr20.

- Sterile EO.

- Shelf-time: 5 years.
---
Suction Catheter are flexible, long tubes used to remove respiratory secretions from the airway. The purpose of suctioning is to keep the airway clear of secretions

and to prevent plugging.One end of the suction catheter is connected to a collection container (suction canister) and a device that generates suction.
 Features 
---
- Appropriate degree of hardness, provides kink resistance.

- Atraumatic, soft rounded, beveled, open tip.

- Two lateral eyes with smooth edges.

- Color coded connector.

- Smooth kink resistance tubing ensures uniform flowrate.

- For removal of secretion from trachea and bronchial region.

- Atraumatic, soft rounded, open distal end with lateral eyes or opposed eyes for non-traumatic insertion.

- Color coded connector for easy identification of size.
 Cautions 
---
1. Single use only.

2. Sterile if package is unopened and undamaged.

3. Store in a cool dry place.
 Package 
---
- Individual pouch

- Box of 100pcs

- Ctn of 6 boxes.
 Specification 
---
| | |
| --- | --- |
| REF | Size |
| EL062601 | Fr6 |
| EL062602 | Fr8 |
| EL062603 | Fr10 |
| EL062604 | Fr12 |
| EL062605 | Fr14 |
| EL062606 | Fr16 |
| EL062607 | Fr18 |
| EL062608 | Fr20 |
 Certifications 
---