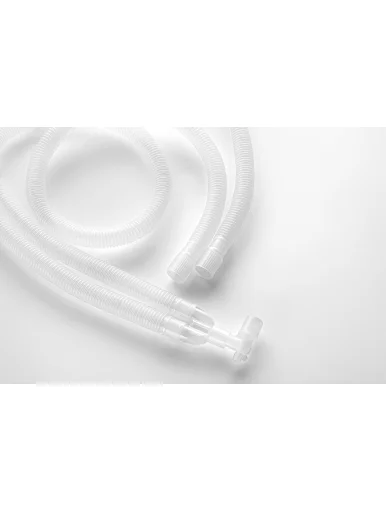 Anesthesia Breathing Circuit Catheter Kit Corrugated Smoothbore Expandable Tubes
- Medical grade material

- Size: adult, pediatric

- Non-sterile

- Shelf-time: 5 years
---
Anesthesia circuit creates an artificial atmosphere, bringing anesthetic gases and oxygen from the home of an anesthetic gas machine to the patient.

In the process, carbon dioxide and surrounding room air are removed, while temperature and humidity are preserved and kept regulated.
 Features 
---
- Can be sold as kit with anesthesia mask, breathing bag, HMEF, catheter mount, extra limb.

- Standard Latex free breathing bags, Latex optional.

- ISO standard interface.

- Constructed of flexible and lightweight tubing.

- High transparency for good visibility.

- Wide variety of lengths accommodate all patient positioning needs.

- Available in both adult and pediatric diameters.
 Cautions 
---
1. Before use, test the circuit according to anesthesia or breathing system operation procedure.

2. Use under instruction of anesthetist or ICU doctor.
 Package 
---
- Individual bag
 Specification 
---
| | |
| --- | --- |
| REF | Size |
| EL063001 | φ22mm, corrugated tubes, adult |
| EL063002 | φ15mm, corrugated tubes, pediatric |
| EL063003 | φ22mm, smoothbore tubes, adult |
| EL063004 | φ15mm, smoothbore tubes, pediatric |
| EL063005 | φ22mm, expandable tubes, adult |
| EL063006 | φ15mm, expandable tubes, pediatric |
 Certifications 
---