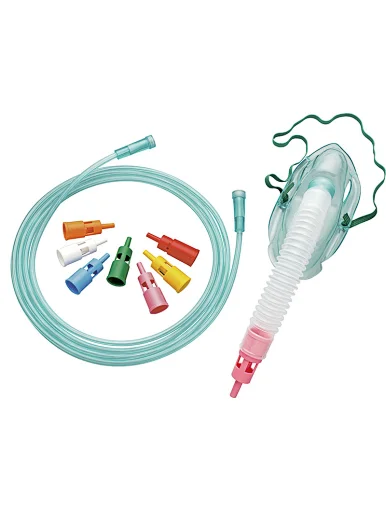 Adjustable Venturi Mask With 7 Diluters Disposable Oxygen Concentration Madical Grade PVC
- Medical grade PVC

- Size: From infant to Adult

- EO sterile

- Shelf-time: 5 years
---
A Venturi mask -- also known as an air-entrainment mask -- is a medical oxygen delivery mask that utilizes a flow meter to deliver a precise amount of oxygen.
 Features 
---
- The product can be transparent green and transparent white.

- Safe, simple delivery of variable oxygen concentrations.

- The star lumen tubing can ensure oxygen flow even if the tube is kinked, different length of the tubing is available.
- Features 7 color-coded diluters: 24%(blue) 4L/min, 28%(yellow) 4L/min, 31%(white) 6L/min, 35%(green) 8L/min, 40%(pink) 8L/min, 50%(orange) 10L/min,

60%(red) 15L/min.
 Cautions 
---
1. Federal(USA) law restricts this device to sale by or on the order of a physician.

2. For single patient use only.

3. Not intended for reprocessing.

4. Avoid freezing and excessive heat.
 package 
---
 - Individual pack
---
| | | |
| --- | --- | --- |
| REF | Material  | Size |
| EL062201 | PVC | Adult Elongated / XL |
| EL062202 | PVC | Adult Standard / L |
| EL062203 | PVC | Pediatric Elongated / M |
| EL062204 | PVC | Pediatric Standard / S |
| EL062205 | PVC | Infant / XS |
 Certifications 
---