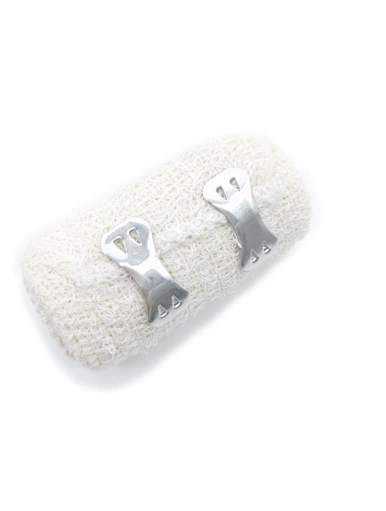 Crepe Bandage Self Adhesive Elastic Bandage Medical Cotton Spandex Hospital Supply For Wound Care
- Medical grade

- Size: 5 cm x 4.5 m、7.5 cm x 4.5 m、10 cm x 4.5 m、15 cm x 4.5 m

- Non-sterile

- Shelf-time: 5 years
---
Crepe bandages are a type of elastic fabric used to cover wounds or injuries while they heal.

They are often placed over stitches, and many people know them as gauze wraps. 
 Features 
---
- Fit for sprain and soft fissue injuries.Help alleviate swelling and pain.

- High elasticity and fine breathability.

- Universal spike fits for any kind of infusion bottles or bags.
 Cautions 
---
1. Keep it dry, cool.

2. For single use only, discard it after using.
 package 
---
 - Individual pack
---
| | |
| --- | --- |
| REF | Size |
| EL030201 | 5 cm x 4.5 m |
| EL030202 | 7.5 cm x 4.5 m |
| EL030203 | 10 cm x 4.5 m |
| EL030204 | 15 cm x 4.5 m |
 Certifications 
---